Elbow Bursitis Treatment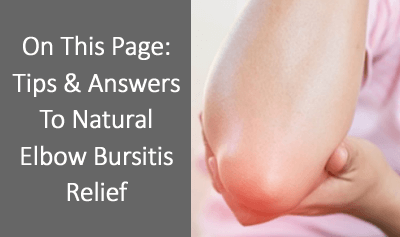 If you are currently suffering from inflammation, swelling or other painful symptoms caused by elbow bursitis, then it is highly likely that this is starting to affect your work, sleep and lifestyle.
Furthermore, if you are someone who enjoyed physical activities or just getting out and about prior to developing elbow bursitis, then it can be quite mentally challenging to deal with.
Bursitis in the elbow can often make even everyday activities difficult, dramatically impacting your quality of life. This resulting change in lifestyle, combined with the ongoing pain and disrupted sleep, may possibly lead to depression in some individuals.
Hence it is important to make sure that you properly address bursitis in the elbow as early as possible.
Below we have provided some valuable tips that you can benefit from straight away. These tips can help minimize the risk of further injury while also supporting your road to recovery.
Following the tips we discuss the most common treatment options available, these include strong anti-inflammatory medication, steroid injections and aspiration of fluid from the area using a syringe.
Finally, you will learn about the OSMO Patch, a natural and effective treatment option which takes advantage of a well know process found in nature called… OSMOSIS!
(Click to read: The OSMO Patch Story and find out about how it all began).
TIPS for Elbow Bursitis Relief.
1. Is Exercise For Elbow Bursitis Helpful?
2. Is Massage a Good Natural Treatment for Elbow Bursitis?
3. Should you be Applying Ice or Heat for your Elbow Bursitis Pain?
What are the Current Treatment Options for Elbow Bursitis?
For the first 24-48 hrs after the initial onset of elbow pain or the visible swelling due to elbow bursitis (olecranon bursitis) it may be appropriate to apply ice and then immobilize and rest the elbow (This should hopefully help minimize the initial swelling).
Unfortunately most people either miss this initial window to treat their elbow injury or their elbow bursitis still continues to swell and cause increased pain.
When this happens your doctor will normally offer either; anti-inflammatory medication, an injection with cortisone or aspiration of fluid from the elbow using a syringe assuming there is a visible lump (this is usually rather a painful procedure for the majority of people).
If you are currently suffering from elbow bursitis then there may be several reasons why you already feel that any or all of the above treatments are not really a viable option for you. This may include;
You have already tried one or more of these and they provided you little to no benefit.
You may not be able to take these medications due to age or a pre-existing medical condition.