Baker's Cyst: What you need to know!
Is a baker's cyst causing you pain, discomfort and possibly affecting your sleep, work, or lifestyle? How would you like to discover a treatment that;
Provides Pain Free Relief,
Is NATURAL
Contains absolutely NO Drugs or Steroids,
Is Non-Invasive and
Backed by our 'No Questions Asked Money Back Guarantee'
Like most people suffering pain you probably answered yes to at least one or more of the above questions. If you did, then it's time to discover the OSMO Patch.
We shall first begin by getting a better understanding of this condition, such as what is a bakers cyst and what are the symptoms and causes of such. You will then learn how the OSMO Patch used together with proper rest supports the reduction in inflammation, swelling and the associated pain due to this condition.


Thank you for your excellent product.
First use was fantastic and after five times it had solved my problem of my swollen and stiff knee. I ordered another batch just to keep some extras on hand because from now on, I won't do without them.
I have already recommended them to several people that have had similar problems. Thanks again for your wonderful product. I'm very grateful for the OSMO Patches.

I got the patches yesterday evening. I have had five knee operations on my right knee and have arthritis. I also have a bakers cyst on the back of my knee and off to the front. I tried it last night and I was surprised at the results and it actually took away some of the swelling. I work out every other day and I think these will help.
Thanks

Dear Danniel,
I completed the OSMO Patch treatment and have found it to be very beneficial in that it has eliminated the swelling in my knee and has minimized the arthritic pain also present in my knee. I consider it to be a very good treatment for reducing or totally eliminating swelling of an area. I highly recommend its usage.
What is a Baker's Cyst?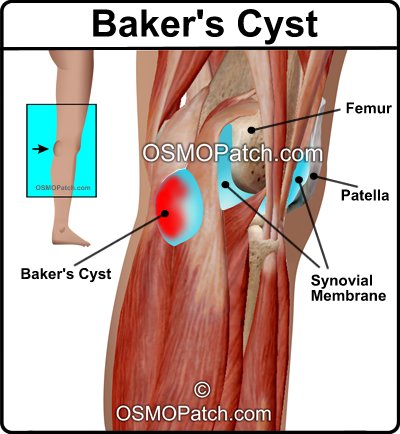 A baker cyst is a painful condition which can be characterized by swelling in the back of the knee. This swelling occurs due to the build-up of synovial fluid inside a small sac known as a bursa. If you are not already familiar, a bursa is a small balloon like structure found throughout the body and acts as a cushion between bones, tendons and muscles.
When this condition develops, synovial fluid (which is normally contained in a tough capsule that encases the knee joint) collects in a bursa and bulges behind the knee. This is also called a "popliteal cyst" as it directly affects the popliteal region of the knee (that shallow depression located behind the knee joints).
If left untreated it is possible for it to rupture. A ruptured baker's cyst may then cause the collected synovial fluid to transfer and travel down the calf muscles of the legs. This can then trigger rapid swelling of the leg which may then cause further complications.
Common causes?
Baker's cysts are very common and can be caused by nearly any joint-related swelling. Some of the most common causes may include;
A micro tear in the knee's meniscal cartilage
Arthritis of the knee (which is more common in older adults)
Injury to the anterior cruciate ligament of the knee (ACL injury)
Sports-related injury that affects the knee
Symptoms & signs?
Symptoms may include; visible swelling or protrusion on the back of the knee (which can be painful or painless), constant and prolonged knee pain, and tightness at the back of the knee or simply a feeling of tenderness at the back of the knee. >> popliteal cyst
Finally we need to consider… how is a baker's cyst treated?
As this is a type of soft tissue injury (STI), then a suitable treatment that could be administered in the first 24 – 48 hours may include rest and ice in order to minimize the amount of inflammation and swelling. Whilst this will initially reduce pain and inflammation behind the knee, it is often not enough to resolve the injury.
Instead the pain behind the knee will often continue to become worse over time, leading to further swelling behind the knee, increased discomfort and worsening pain.
When this occurs, the individual will normally then visit a doctor to learn what treatment options are available. Unfortunately there has been very little advancement when it comes to baker's cyst treatments. This generally means that your doctor will likely only suggest just a few alternative treatment option.
In general most doctors will either suggest; anti-inflammatory drugs or steroid injections to hopefully reduce the pain and swelling. Also if there is noticeable swelling behind the knee your doctor may further recommend draining the inflamed bursa with a syringe to remove the excess fluid… even surgery may be recommended in extreme cases.
For many people the above mentioned treatments will just not be an option. This may be for several reasons… including;
Some people may have already tried one or more of these treatments with little to no benefit.
Some individuals may not be able suitable for these types of treatments due to age or a pre-existing medical condition.
Furthermore, such procedures can be painful and will be seen as invasive by many individuals that are currently suffering from this condition. Alternatively some people may simply prefer to first investigate a natural treatment option when dealing with their health.
The OSMO Patch now offers an Intelligent Natural Alternative!
The OSMO Patch is especially designed to draw fluid from the body and reduce swelling and associated pain in conditions such as a baker's cyst. In fact the OSMO Patch is ideal for reducing the swelling and pain associated with such.


Ok, I have an arthritic knee from playing American football and having an operation when I was 18. Going to a doctor to have it drained would cost me well over $220… I tried the OSMO Patch about a 1-2 years ago, thinking it may be a gimmick, and is was no gimmick because it works. The pressure on my knee is lessened by morning and I can move around a lot better. I'm health conscious, watch what I eat, go to the gym 3-4 times a week and of course I work. It is important to be open to alternatives to the traditional doctor visit and the "give me a pill" attitude that most of the public has because we, as individuals, have to realize that we, not someone else, are the most interested in our own health. Thank you,

Hello Danniel, Thank you for your prompt reply.
I started using the patches about 10 days ago, and the amount of improvement is unbelievable. The lump was rock hard, and I could not bend the knee, nor straighten the leg. Even though there is still some swelling, the knee feels almost normal. I have run out of the patches, so will restart as soon as I receive the new batch…hopefully it will all go away. Thank you for your help, and good luck…

This is my second round of patches. First had a bakers cyst on the back of knee, used 6 patches pain and cyst GONE! Have had no problems since. So gave rest to a friend he said his went away but only used 4 so wants to try more and I have had a something come up on wrist going to try patches. Will see what happens.

Hello Toky, I used the patches for 5 nights on by left knee with bakers cyst and by the fifth time, the patch was dry- I then took that to mean that all fluid has been removed. It's been 2 days since that I have no pain, no more swelling at back of left knee, compared to my right knee they both feel/look the same size, which tells me they are normal sizes again.
Thank you very much for making this fabulous miracle patch available… Staying Positive with a huge SMILE!
Simply stick the OSMO Patch over the affected area prior to going to sleep where they can then go to work removing fluid and stimulating blood flow continually throughout the night while you sleep. Then when you wake up in the morning the used patch is removed and simply discarded.
It is truly that simple! >> See what people are saying after trying the OSMO Patch
The OSMO Patch together with proper rest now provides an natural alternative way to support the relief of inflammation and pain associated with a baker's cyst. What's more the OSMO Patches are:
Natural
Drugs & Steroid Free
Non-Invasive & Pain free… and,
Backed by our No Questions Asked Money Back Guarantee
---
So if you are ready for a natural approach to support the relief of inflammation and pain caused by a baker's cyst then the OSMO Patch may be your Answer!